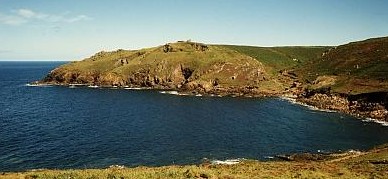 Above, Kenidjack Head from Cape Cornwall.
Another excellent offering from Doctor North today (http://eureferendum.com/blogview.aspx?blogno=87018#) but I'm afraid we've probably reached the point that further criticism of the fools in the MSM is now mere repetition.
There is of course still verse! William Topaz McGonagall is largely regarded as the worst British poet. Wrong! I am far far worse:
Once a day, one surfs along
to read a tome that for so long has had to say,
"We are so so wrong!"
Whence we come; from Remain or Leave,
We take our leave; for believe we now…
That from below that furrowed brow of competence
There speaks the voice that is not nonsense but sense!
That Shangri-La will not now await at Brexit's gate!
That, "Too too late!" Shall be our cry as we seal our fate
Upon that gate whose path it is to descend to this,
Our great abyss,
Shorn of wealth and garnished with woes
We in the pit of Stygian Dystopia shout…. WTF ?
But we are not heard.