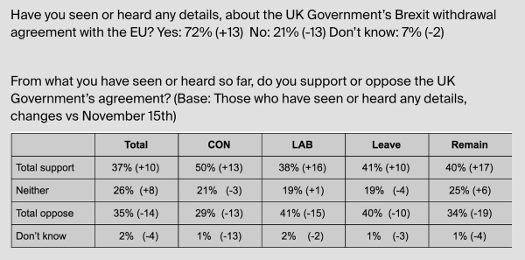 Above: A Survation poll about Madame Mayhem's Brexit Deal.
According to Survation, the pollsters: "……New polling, conducted Tuesday November 28th on behalf of the Daily Mail, on attitudes to the Government's Brexit deal shows significant change in public attitudes. Despite its unpopularity relative to a range of alternative scenarios, awareness of, and public support for the UK Government's Brexit withdrawal agreement has increased significantly……."
GOTO: https://www.survation.com/are-the-public-warmer-on-the-prime-ministers-brexit-deal-than-mps/
British Gazette comment: The campaign [2nd referendum] is already underway. The Brussels Broadcasting Corporation's lunchtime propaganda broadcast – aka 1PM News – has the government statisticians stating all Brexit options will leave the UK worse off – EXCACTLY what the EU is saying!
What to expect?
These are uncertain times but expect:
- the European Committee of Juggling to decree that the UK can revoke Article 50 by repealing the relevant Act and this does; (a) not require the consent of the EU and (b) enable the UK to restore it's position vis-à-vis other EU member states to what it was on 23rd June 2016 complete with all its opt outs, but the offer that was on the table is no longer extant.
- Parliament to vote down Madame's deal and to put forward a second referendum with a binary choice of accept the deal or return to the EU by revoking A50 – a no deal/hard Brexit option will not be on the ballot paper.
- this organ to state; "We told you so!"