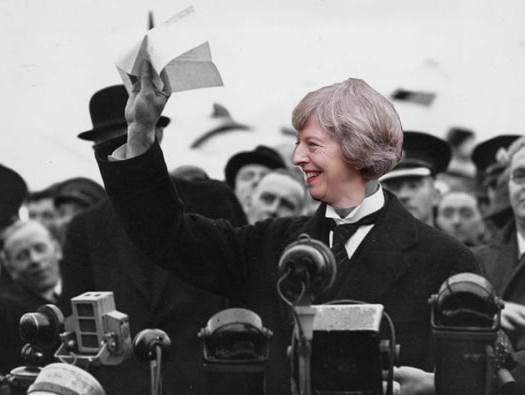 Above: "This morning I had another talk with the President of the European Commission, Herr Juncker, and here is the paper which bears his name upon it as well as mine……"
In his blog-post today (http://eureferendum.com/blogview.aspx?blogno=87079), Dr. Richard North speculates upon the possibilities of Madame going off to Brussels and coming back with a phantom concession in the hope of duping her backbench MPs [Malleable Pratts? - Ed.] to vote in favour of her "Brexit Deal" – aka, Purgatory without a time limit – on Tuesday.
Readers will recall that on Tuesday 27th November, Madame made a whistle stop tour which included the Royal Welsh Winter Fair nr Builth Wells (https://www.bbc.co.uk/news/uk-wales-politics-46350868). A fortnight later (words like "Doctor", "Johnson", "fortnight" and "hanged" come to mind) when looking at the gloomy prospects for Madame who may well face a walk to the metaphorical scaffold. Should this be so, she may care to reflect that upon 11th December 1282 there took place the Battle of Orewin Bridge, where Llywelyn ap Gruffudd, the last native Prince of Wales, was killed at Cilmeri just over a couple of miles west of Builth.
Whilst Madame's metaphorical passing will not be marked by a physical memorial, she will however have played a very important part in history as these are historic events taking place.