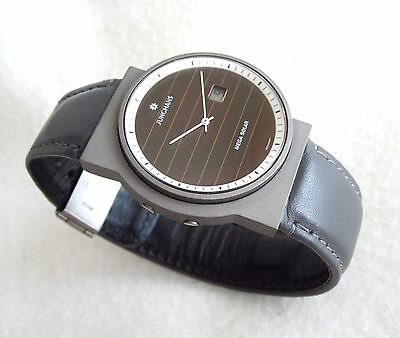 The above image is of a Junghans MEGA Solar watch. The model reference is 021/4320 and it's case is made from solid titanium. The thick grey leather strap (known as a "band" in the watch trade) is bulky because it has a long wave aerial contained within it. This is because the watch is said to be radio controlled. By this it is meant that the watch has it's time reset automatically once a day – in the early hours – from a longwave radio time signal, thus ensuring it's accuracy.
It was an "up-market" product and appealed to a "niche market".
Trading as "Corneal Clocks & Watches", I sold these quite successfully by mail order and later "online".
Like most, if not all products, these watches had aspects that a good and competent retailer would make themselves aware of. As the reader will know from their own experience, replacing an ordinary leather watch strap is a fairly straightforward process and unless one is in possession of such as a Rolex and desirous of having a branded replacement, need not be expensive. However, the reader will be correct in their suspicion (based on an examination of the image) that this would not necessarily be the case with the 021/4320!
As a result, I used to give my customers some advice. This was to put a fairly generous coating of undiluted household disinfectant (the normal unbranded thick green "own label" disinfectant serves the purpose excellently) and allow it to dry off. That this should be done every two months – unless the user had particularly "sweaty" wrists or wore the watch in a hot and humid environment. This was to kill the bacteria that eats away at the leather. Doing this enabled my customers to extend the life expectancy of their watch strap several fold.
The other issue with the watch was the very high capacity and very small (relatively speaking) tantalum capacitor which collected the electricity from the solar panel to enable the watch to work. Capacitors are prone to sudden failures. Determining an exact lifespan is impossible. If the capacitor failed (which from time to time they did) the customer was advised to return it and I would return to to the authorised Junghans repair/service firm in the UK.
Another issue (a regular one with my upmarket customers who had senior occupations in many cases) was the watch not collecting it's time signal. This often occurred as a result of the customer making repeated trips to continental Europe and resetting the time zone several times. I would talk the customer through (over the 'phone) into carrying out a full reset – which mostly cured the problem.
The other day, I noticed my old watch had not collected it's time signal for several days. I performed a full reset and this failed. The problem lies in either of two places. The aerial and its connection or the movement itself.
Being now in the position of an ordinary retail customer I emailed Junghans in Germany and received a reply advising me of the authorised service centre.
Due to concerns relating to this firm, I'm not sending the watch off to them.
However lacking a watch is now no longer an issue with me. This is because I have a device which I carry with me or is within arm's reach at all times: a mobile [cell – USA] telephone. The particular device happens to be a Huawei Ascend G510. It is known as a "smart phone". It's is. Unfortunately it's owner is not – smart!
I purchased the device in December 2013 for just under £125 from the Carphone Warehouse store at Moortown Corner in Leeds 17. This cost included a Vodephone "Pay as You Go" SIM which was replaced when the pre-paid calls were exhausted with a "Pay as You Go" SIM from "Three" – along with a new telephone number. "Three" appeared to offer a competitive package. I bought the pack in the Sainsbury's convenience store on Street Lane, Leeds. One thing that was attractive about the particular pack was the telephone number: 07447 884600 – something easily remembered.
My reason for making this purchase was directly related to my circumstances: I had sold my house (the family home) and was in lodgings (what my parents used to call "digs") and I was undergoing the process of double conveyancing – selling and buying residential property. As a result, I wanted a more sophisticated device than the old one I possessed. It was and still is a "Pay as You Go" and is not a "locked" device. It is not used that much now as I am the old fashioned sort who likes to use a land-line. However, it is a vital asset.
Because it was not used that much, I noticed that the time on the device was about 12 minutes fast. This was strange as the device was automatically updated over the mobile network. However, it was not a problem for me for if one knows how fast/slow a timepiece is, one can easily calculate the correct time.
The device did however have a problem. It is equipped with a 1700mAh Lithium-Ion cell. This is now over six years old and is showing it's age. As such, when I was in Penzance recently, I called into a mobile 'phone repair shop and they removed the back and battery to ascertain what type was required. When the phone was handed back to me, it was showing the correct time. Clearly this was a method of solving that problem! I have since decided to order an OEM replacement battery online and fit it myself.
I have come to the conclusion that since I carry the device that also serves as a torch (there is a lack of street lighting where I live) and also a calculator and also diary, and since as well as giving me the time (hours and minutes, no seconds) along with the day of the week, the day and month, along with the year (should I ever forget it!) – I have no need of a watch!
There is however another cogent reason for me not spending any money on repairing my old Junghans watch: Brexit!
You see, it appears that the UK may well deviate from the established pattern in EU counties of adopting a common approach to daylight saving time. Any divergence by the UK from EU practice will have serious consequences for many of my customers; not so much for those who have watches which can be adjusted but to some wall clocks that can't – be adjusted that is. This is because the Junghans radio controlled timepieces take the signal from DCF77.
GOTO: https://en.wikipedia.org/wiki/DCF77
Junghans produced an attractive range of high quality clocks. However only a small number were made for the UK market. This impediment however was overcome by Corneal Clocks & Watches. This was because I manually altered the clocks by putting the hour hand one hour behind by interrupting the set up process. Thus instead of pointing to 12 o'clock during set up, they pointed to 11 o'clock! Thus many clocks in British and Irish homes have functioned perfectly well since the 1990s! Should the UK move away from the established pattern, these clocks will become ineffective.
IF, however the EU gives up daylight saving time and the UK retains it – along with the present time zone, the UK will during the GMT period be 2 hours behind CET which will cause the watch not to receive the signal. This is because it had been assumed that time zones +/- 2 hours of CET were beyond the DCF77 transmission radius. This means that the watches will be affected as well.
Legally, in terms of contract law and customer rights, I am completely in the clear. There is no comeback.
I do however feel very badly about this.
NB: Radio controlled timepieces linked to the British transmitter at Rugby will NOT be affected!