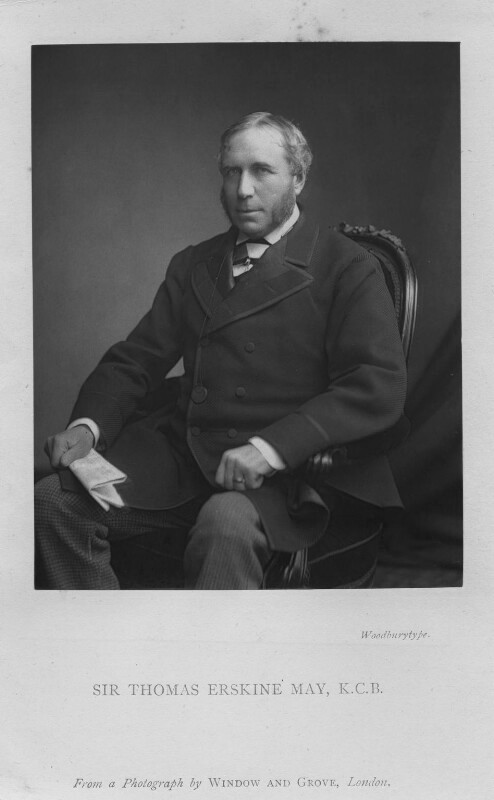 Today, this organ is most pleased to bring it's readers some news that is worthy of the description, "news". This is that the publication known as "Erskine May" is now online and free to use!
Thomas Erskine May produced the first edition of his 'Treatise on the Law, Privileges, Proceedings and Usage of Parliament' in 1844 and the publication came to be named after him. Thomas was, at the time, a young assistant in the House of Commons library. Later he became the Clerk of the House, the Commons' most senior official. In total, he prepared nine editions of his Treatise and it has been updated regularly since.
Previously, unless one had access to a library's copy, this was an expensive book to consult. The current (25th) edition is still available to purchase.
GOTO: https://store.lexisnexis.co.uk/products/erskine-may-parliamentary-practice-25th-edition-skuuksku9781474313360EMPP2582450/details
NB: The print version is £329.99 plus £7 postage (within UK). It is hard-backed but I have been unable to satisfactorily ascertain what type of binding is used. This is because certain publishers of low volume print runs use a binding known as "Perfect Binding" – which is far from perfect. The reader will be quite familiar with his if they have ever received a catalogue or company report through the post. The edge is flat because the pages are glued in. This is NOT satisfactory when a large print work is involved. For instance the current publisher of Jane's Fighting Ships used "Perfect Binding" – which means that the book does not open very well and has a limited life. Of course, a traditional stitch binding should have been used. This however is expensive.
As stated above, it is now available online, free of charge.
GOTO: https://erskinemay.parliament.uk/
There is an informative Wikipedia article on The Right Honourable, The Lord Farnborough, PC, KCB
GOTO: https://en.wikipedia.org/wiki/Erskine_May
NB: The Bullshit Broadcasting Corporation did in fact report upon this important development yesterday (https://www.bbc.co.uk/news/uk-politics-parliaments-48826350). But of course, this was only online and no reference was made in any of it's broadcasts. Sadly, the internet has provided the BBC with a great excuse to avoid publicising noteworthy events. You see, they do. But often only online. Which generally means that those surfing onto the Beeb's site to read such have already been advised of same elsewhere!