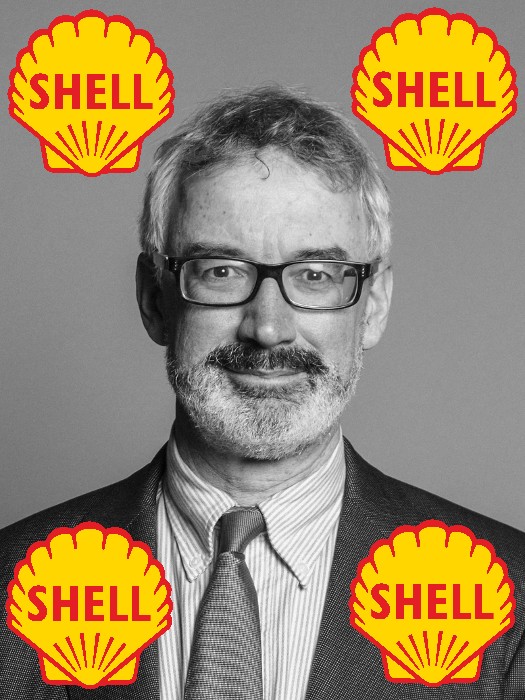 Above, Lord Macpherson and four Shell logos (representing the quarterly dividends).
The Right Honourable, The Lord Macpherson of Earl's Court, GCB was Permanent Secretary of HM Treasury from 2005-2016 fears that if The Buffoon makes big unfunded spending promises, his administration risks adding an "incoherent macroeconomic strategy" to a chaotic Brexit strategy.
"The risk is the depreciation of the pound turns into a rout….." he said, noting that Britain – unlike the USA – was a very open economy which did not have a reserve currency. "People don't have to hold sterling……" he said.
Of course, at this time each of us will be looking to protect their own interests.
For me, my shareholdings and particularly the shareholding in Royal Dutch Shell is my principal concern.
Thus, I read with interest the following news from the Reuters news agency.
GOTO: https://uk.reuters.com/article/us-shell-results/shell-profit-slumps-to-30-month-low-denting-recovery-idUKKCN1UR3NF
I am not too concerned about the fall-off of income. This because a fall in the share price will enable Shell to pursue it's policy of buy-back of it's own stock at less cost. You see, when a company buys it's own shares and then cancels them it is in fact reducing it's dividend payments (if it keeps the monetary level of the dividends unaltered).
Because of this less than hoped for news, Shell's share price has dropped in today's trading. Taking into account the values of my other shareholdings, this means that Royal Dutch Shell represents 39.32% of my portfolio by value.
It is difficult to overstate the importance of Royal Dutch Shell and it's dividends – which are paid quarterly – to the London Stock Exchange and the UK economy. This is because the dividend payments flow into so many different pockets most of whom receive distributions through ownerships of pension schemes, unit trusts, unit linked insurance policies, investment trusts and of course, direct ownership of the shares themselves.
It is also very important to note that since crude oil is traded in the US $ and the Shell dividend is calculated in the US $, a critical date for any UK holder of the "B" shares is the "Pounds sterling and euro equivalents announcement date". It is on this day the value of the £ is used to calculate how much money will be paid into the bank accounts of those UK holders of "B" shares.
The next dividend is for the 2nd quarter 2019:
Announcement date: 1st August, 2019
Ex-dividend date: 15th August, 2019
Record date: 16th August, 2019
Pounds sterling and euro equivalents announcement date: 9th September, 2019
Payment date: 23rd September, 2019
Given the political uncertainty, I expect the value of Sterling to be weak against the US $ in 40 days time…..
This of course means more money for Moi!
Should a "No Deal Brexit" take place then Sterling will drop in value a very great deal.
The dates for the 3rd quarter 2019 are:
Announcement date: 31st October, 2019 (Halloween/Brexit Day!)
Ex-dividend date: 14th November, 2019 (Birthday of HRH The Prince of Wales and of the late Suzie the Cat).
Record date: 15th November, 2019
Pounds sterling and euro equivalents announcement date: 5th December, 2019 (St. Nicholas' [Father Christmas] Eve).
Payment date: 18th December, 2019 (Which, for Roman Catholics like Jacob Rees-Mogg [who is likely to hold such shares] is The Feast of the Expectation of the Blessed Virgin Mary).