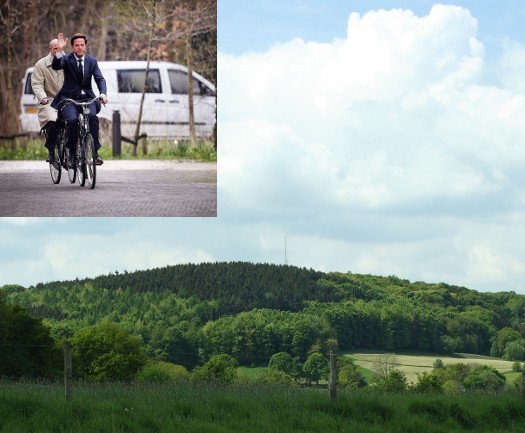 Above (main picture), The Vaalserberg – a hill with a height of 1,058 feet (322.4 metres) above mean sea level which is the highest point in Holland. The Vaalserberg is located in the province of Limburg, at the south-easternmost end of the country, near the town of Vaals (after which it is named). Insert (top left), Dutch Prime Minister Mark Rutte goes to work on a bicycle. At least Mr Rutte has sufficient awareness to ensure that his PPO (Personal Protection Officer) is following on a bicycle and not an armoured limousine!
Cycling is a popular activity in Holland. Largely because it is FLAT. There are hills, the highest of which is the above mentioned Vaalserberg.
The English county of Norfolk is another place where cycling is a popular activity. For the SAME reason! In terms of flatness, Norfolk beats Holland for the highest point in the county is Beacon Hill, some 338 feet (103 metres) above mean sea level. It is three quarters of a mile south of the village of West Runton on the North Norfolk coast.
Beacon Hill is in the constituency of North Norfolk whose current elected incumbent is the Rt. Hon. Sir Norman Peter Lamb, the Chairman of the Science and Technology Select Committee since 2017.
Of course there is a positive correlation between the level of flatness and the popularity of cycling! Of course, the converse is true as well. This is why cycling has never really taken off with the good people of the nation of Nepal, famous for it's mountains. That is NOT to say there are no cyclists. There are. These are almost exclusively western tourists! These visitors are referred to by the Nepalese as "बेवकूफ " or "Bēvakūpha" which is Nepali for idiots!
The reason why the Nepalese call these people idiots is shown in the following Youtube video:Enough said!
What sensible people – that means others than Lamentable Lamb – realise is that cycling is not suitable everywhere. That there are many places on Planet Earth which are unsuited to cycling.
This of course has not stopped Lamentable Lamb and other assorted idiots that make up the membership of his committee from recommending that private cars should be BANNED in the UK to enable the country to decarbonise!
In its report, the committee stated: "In the long-term, widespread personal vehicle ownership does not appear to be compatible with significant decarbonisation."
The .PDF of the report can be obtained here: https://publications.parliament.uk/
Alternatively, one can visit the following link:
GOTO: https://www.parliament.uk/~clean-growth-report
Of course, not all cars would be banned!
Persons engaged in essential occupations – such as Members of Parliament, Local Councillors and members of climate change action groups will continue to be allowed to drive. For the billionaires, this is not that much of a problem as private trains are not going to be banned, neither are private jets or private helicopters.
Of course, if you live and work in London Borough of Islington (the home of Comrade Corbyn) then being without a car is not that much of a trial as there is public transport aplenty to choose from.
For people living in rural areas however, a car is vital!