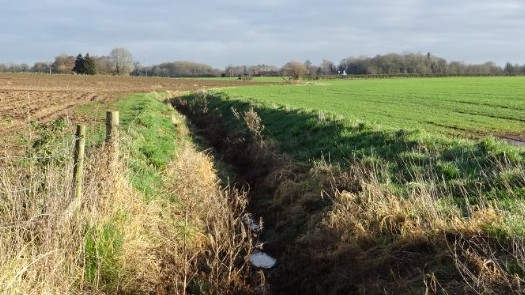 Above, a drainage ditch on farmland near Severn Stoke near the Malvern Hills, in Worcestershire.
Otherwise known as Halloween, the 31st October should really be renamed, Dead in a Ditch Day! Although with the fools returning to campaign in their constituencies to commence campaigning, we will clearly be in for a whole load of "Tricking and Treating" until Thursday 12th December!
À propos of being "dead in a ditch", the Buffoon could have done worse than choose the particular ditch that is the image of today's article. This because the attractive village of Severn Stoke has since 1997, been in the constituency of West Worcestershire, between 1950 to 1997 South Worcestershire and before this the constituency of Bewdley – that was in fact the constituency of Prime Minister Stanley Baldwin – who became Prime Minister as a result of the last election to be held in December (1923).
The current Member for West Worcestershire (since 2010) is Harriett Baldwin (née Eggleston). She is in fact Mrs James Stanley Baldwin. However she has been at pains to point out that her husband's family appears to be unrelated to the family of the Earls Baldwin of Bewdley.
GOTO: https://www.harriettbaldwin.com/content/harriett-baldwin-makes-her-maiden-speech
Mrs Baldwin is the current Minister of State for Africa & International Development.