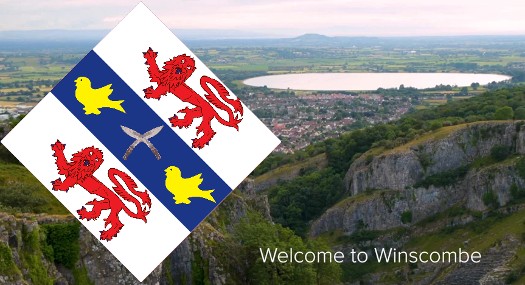 Above, Baroness Harding's arms + Winscombe & environs.
It can take half an hour to drive (via the A371) the eight miles from Winscombe Post Office (8 Woodborough Rd, Winscombe BS25 1AA) to Weston Super Mare Conservative Club (24-26) Alexandra Parade, Weston-super-Mare BS23 1QX).
This information may be of little concern to the vast majority of BG readers but might be of some interest to the constituents of the town of Weston-Super Mare whose MP is a certain John David Penrose. Is this because Mr Penrose might prefer the rural charms of Winscombe to the sometimes hustle and bustle of Weston – especially when "the great unwashed" from the West Midlands come for their fortnight's summer holidays?
Mr Penrose happens to be the husband of Dido, the Baroness Harding.
It is clear reading Richard North's blogpost today (http://eureferendum.com/blogview.aspx?blogno=87705) that the good and learned doctor does not rate Lady Harding's abilities very highly!
Clearly, judging from her Wikipedia entry (https://en.wikipedia.org/wiki/Dido_Harding) the lady possesses both intelligence and some physical courage ~ it takes the latter to get on a race-horse and ride said beast in a race ~ but mere ability to get a good degree at Oxbridge is not the requirement needed to be a successful leader of an organisation – be it in the private or public sector. Lady Harding's entry onto a successful assent up the greasy pole (access to plentiful supplies of degreasing compound) was her good fortune to read "PPE" at Magdalen at the same time as a certain David William Donald Cameron.
There are many curious aspects about human societies. The pendulum swinging from one extreme to another is oft used as an analogy in politics. The Foucault pendulum (https://en.wikipedia.org/wiki/Foucault_pendulum) however can be a more expansive analogy.
Take Lady Harding for example: her is the traditional pathway of success in the Tory party. From a "good well connected family", privately educated and Oxbridge. Far left activists of course would also mention that she is "white"!
This last reference to a racist attitude (these far left activists generally are racist ~ often against their own race) is of note however. This because now in 2020, if an intelligent young person wishes to embark upon a successful political career it is important for them to be in certain categories.
Being female is a great advantage. Being from an ethnic minority is a greater advantage. Being of a faith other than Christian is another advantage. This means that if you are a Buddhist/Hindu/Sikh/Muslim woman from an ethic minority with a good PPE degree you will go far and fast in whichever of the two dominant political parties you choose!
This is because these two political parties will discriminate in your favour in an attempt to prove to the world that they are not discriminating! In doing this they are using the same topsy turvy logic that some Roman Catholic priests (who have to be celibate) ~ and some clerics from other denominations and faiths ~ use to justify their actions of procuring the services of ladies of easy virtue ~ be they amateur or professional. Their logic: one has to directly yield to the temptation of the flesh so as to adequately assess and "understand" what you are demanding of your flock in resisting such temptation!
It happens to be a FACT of the human condition that people will often justify to themselves a course of action before embarking upon it. Ask any police officer and they will tell you that the criminal will often do that. They will be able to relate the extraordinary level of mental and logical gymnastics these nefarious characters can indulge in to justify their actions!