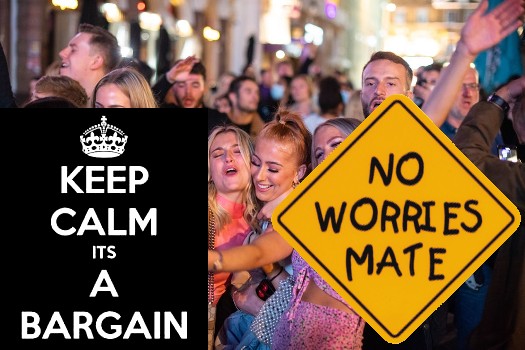 This morning, like other Sunday mornings, I turned up at the parish church for the morning service. These days it is a strange affair indeed with everybody wearing face masks, no singing and listening to pre-recorded music! At first it felt like one was taking part in one of the stranger Monty Python sketches, but the novelty has worn off a long time ago!
I was somewhat relieved to find that there was a new order of service for harvest. This because the following is part of the Litany of Lament:
And now, we know something new,
We know that the world is not ours to control,
and that our plans are confounded by the smallest microbe.
God is teaching us a new song, for a new land.
The reason why I was pleased that we did not have to mumble these words through our face masks is that I would have been sorely tempted to silently add the following line:
And a [redacted] expensive song it is too!
For me the cost was at 4:30PM on Friday 2nd October 2020; £71,086.20p!
My irritation was NOT assuaged by the celebrant taking the service as the sermon was about generosity of spirit!
I was not feeling generous!
However, I am beginning to take steps to rectify the situation!
My investment travails, not my lack of generosity that is!
Yesterday, I did something I did not want to do. Return through the post ("mail" for our US readers) a completed form to Redmayne Bentley my stockbrokers to have my shareholdings in Lloyds Bank and Royal Dutch Shell de-certified and to hold the shares electronically via the stockbroker's client nominee company, Redmayne Nominees Limited. I did this for one reason and for one reason only, WHEN – and not if – RDS rise to £18.90 per share or more, I will be in a position to sell without having to return the certificates first. Given that oil stocks are traditionally volatile in nature, this is an essential measure to be taken before sale.
There used to be an old stock market saying, "never sell Shell" because the oil major has for decades been a standard bedrock of pension funds and institutional UK orientated portfolios.
Of course, there are numerous greenies chortling in schadenfreuden glee at the financial distress of so many RDS shareholders!
However I REFUSE to be too downcast! This because the base image of today's image shows young people celebrating with no thoughts of social distancing! You see, whilst the greenies delight at the prospect of "eine Neue Grüne Odnung", I take some comfort from seeing these youngsters celebrating boisterously!
Why?
Because it demonstrates that WHEN COVID-19 is finally dealt with – through the mass vaccination of the First World population – things will rapidly return to normal and people across the world will start driving cars, getting on trains (most using diesel power) and aeroplanes – the amount of oil leaving the refineries will increase rapidly – along with the fortunes of the oil companies – and their shareholders! À propos of my RDS holding, there are two figures that I keep in mind. One is £18.90 which represents the cost per share that I paid for them. The other is £20.50 which represents the net sale proceeds per share (that have the stockbroking costs taken into account) but includes a level of capital gain equal to the current tax allowance of £12,300. In other words, I could sell the entire holding for £20.50 per share and pay no CGT.
Which is something I confidently look forward to doing at some point!
You see, when investing in the stock market one must bear in mind the following:
~ The market is driven by two emotions: Fear and Greed.
~ People driven by fear and greed trend to overreact.
~ People have a tendency to follow the herd (the "herd mentality").
One more thing: Had I the money, I would buy RDS at £9.00 per share! Unfortunately, I have not!
Which is why I was pleased not to have to sit through the Litany of Lament!
As I had much to lament about!
£71,086.20p's worth in fact!