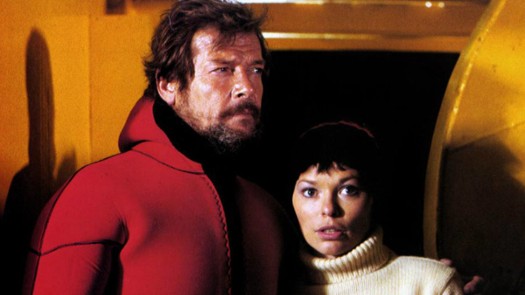 Above, Sir Roger Moore, KBE in his role as eccentric, cat-loving counter-terrorism consultant, Rufus Excalibur Ffolkes and actress Lea Brodie in the 1980 movie, "North Sea Hijack".
Some actors and actresses tend to end up playing one character. They may have different names and different occupations, and the plots differ, but essentially they are playing the same character. A classic case in point is the late Sir Roger Moore who became famous for the role of Simon Templar in TV series, "The Saint".
Sir Roger played the handsome, debonair and suave hero in the role of Lord Brett Sinclair in the TV drama "The Persuaders" co-starring with the late Tony Curtis before landing the role of "James Bond" in the following Bond movies, "Live and Let Die" (1973), "The Man with the Golden Gun" (1974), "The Spy Who Loved Me" (1977), Moonraker (1979), For Your Eyes Only (1981), Octopussy (1983) and finally, "A View to a Kill" (1985).
However, between playing the roles of "The Saint," "Lord Brett" and "007", Sir Roger starred in other lesser known movies as well:
Il ratto delle sabine (1962) with it's now impossibly politically incorrect title! – as Romulus.
Un branco di vigliacchi (1962) as Italian soldier, Enzo Prati.
Crossplot (1969) as talent scout Gary Fenn.
The Man Who Haunted Himself (1970) as engineer and company director Harold Pelham.
Gold (1974) as mining engineer Rod Slater.
That Lucky Touch (1975) as arms dealer Michael Scott.
Street People (1976) as "hit man" (hired killer) "Ulysses" which after viewing this 6 minute YouTube clip (https://youtu.be/M586TymHSUg) you might think it should have been entitled, Dodgems!
The Sea Wolves (1980) as reserve Indian Army officer, Gavin Stewart.
Sunday Lovers (1980) as the character Harry Lindon.
The Naked Face (1984) as psychoanalyst Dr. Judd Stevens.
Sir Roger was well aware that he was typecast and was pleased to have landed the role of Harold Pelham – which was of a different character – sort of. Of the character Ffolkes, I suppose one could say was an eccentric, charmless version of his Templar/Sinclair/Bond character.
If I was asked to list the top three of the above, I would suggest that Gold as #1, that The Sea Wolves as #2 and The Man Who Haunted Himself as #3.
The reason why I have gone on at some length about Sir Roger's movie career is that celluloid/digital storage devices confers a form of immortality upon an actor/actress long after they have died.
Of course, actors and actresses are only too aware that a great deal of their income can come in the form of royalties paid to them when the movies in which they appeared are broadcast or are sold in the form of DVDs or "downloads".
Traditionally, actors and actresses have looked upon this secondary income as a form of pension to help them in their retirement from a notoriously fickle and insecure profession. In particular the broadcast rights the fees of which are high.
However, a particularly awkward fly has dropped in the ointment of many actors and actresses and their estates (who can continue to collect their royalties). This fly has a name; "Political Correctness".
This is most prominently demonstrated by the impossibility of broadcasting three movies for example. These are:
The 1949 black comedy "Kind Hearts and Coronets".
The 1955 epic war movie "The Dam Busters."
The 1967 "Carry On" comedy movie "…..Follow That Camel".
"Kind Hearts and Coronets" and "The Dam Busters" cannot now be broadcast due to the use of the word, "Nigger". "Carry On Follow That Camel" cannot now be broadcast due to it being regarded as offensive to Muslims.
NB: I know that Devon & Cornwall Police insist that I should have used the euphemism "the N word" – even when used in a descriptive (as above) and not abusive context – but expect people not to object when other people use "the F word" – even in an abusive context.
That this situation has been allowed to come about is that our civil society has been hijacked by a politically correct agenda. For a democracy to function properly there must be:
#1: Freedom of Expression.
#2: Independence of broadcasting and the press.
#3: Politicians and civil servants (including the emergency services) prepared to defend #'s 2 & 3!
Chief Constables who merely defend those views that you yourself deem within the bounds of acceptability is NOT defending Freedom of Expression! Yes, Shaun Sawyer, I mean you!