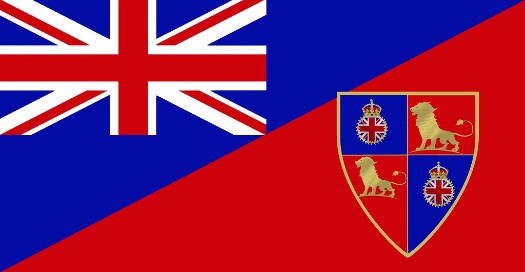 The above image requires an explanation: It is a montage of two images downloaded from this (https://www.facebook.com/GodSaveTheKing09) website.
They call themselves the Loyalist Movement of America and their Facebook page states: "A movement with the goal of restoring the British-American throne. GOD Save, Her Majesty, the Queen."
The reason for the montage is to save space (and bandwidth) as they have made up two versions, a flag with a blue field and one with a red field.
I don't know much about US politics but I would hazard a guess that in percentage terms that these folks have less support amongst the general populace on their "side of the pond" than the Official Monster Raving Looney Party has on our side!
I'm not going to waste time, energy or bandwidth commenting on them any further!
I came across this group quite by accident – I was not looking for them. But then "Mr Google" is like that isn't he? Oh my! I am most terribly sorry! I have committed a most heinous offence! I have assumed the male gender! OK then, "Mrs Google." Oh heavens! That's wrong! OK "Miss Google!" Ah! Wrong again! "Ms Google!"
Maybe we're just better off with plain old Google!
So far, this post is a good example of what is going on at the moment with the Main Stream media. They are reporting TRIVIA! It has become boring!
So many of us are now waiting. Waiting for New Year's Day 2021 and to see what is going to happen. Waiting for Midsummer's Day Thursday 24th June 2021 and to see what is happening to the coronavirus. And for myself: Waiting for an unspecified date in October 2021 when I will receive my State Pension!
Until then, we wait. And watch. And wait……………….