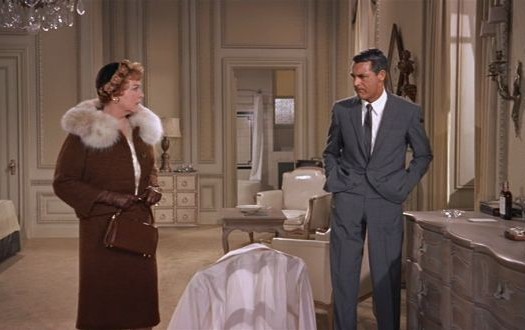 Above, Jessie Landis and Cary Grant in the 1959 classic "North by Northwest".
North by Northwest is one of my favourite films. Buying secondhand on the internet is a dicey business as products can often arrive misdescribed and not working properly. In my case the N by NW DVD was unmarked and works perfectly!
However, N by NW has a huge problem with credibility as the normally competent and able Hitchcock made a huge error miscasting the very accomplished actress Jessie Landis as Cary Grant's mother – when she was only 7 years older than he.
For me, the miscasting of Landis as Grant's mother was and is a huge spoiler of a classic film (movie). One of the most important tasks a director has is to appoint the cast and no actor or actress however able can be placed in any role. It is a matter of judgement. There is no doubt that Landis was a great actress but at the time N by NW was made (1959) the English speaking world had many many fine actresses of a suitable age (in their 70s) who would have done the job as ably – and importantly more believably.
The blogger Aurora (https://aurorasginjoint.com/2013/11/09/jessie-royce-landis-what-a-character/) disagrees and concludes that Landis's skills as an actress overcomes the age problem.
Whilst credibility is important in making films (movies), at the end of the day it is mere entertainment. Governing a country and running an economy is however far, far more important. Whilst credibility is important for a character in a film, credibility is essential when governing a country and running an economy and as the Institute for Fiscal Studies (https://ifs.org.uk/budget-2021) and Doctor North demonstrate (https://www.turbulenttimes.co.uk/news/brexit/brexit-cat-amongst-the-pigeons/), the government is in danger of losing this crucial asset.
IF the government does end up loosing credibility (internationally) we will ALL pay for it in terms of higher taxes, lower public spending, more austerity, lower living standards and higher unemployment.