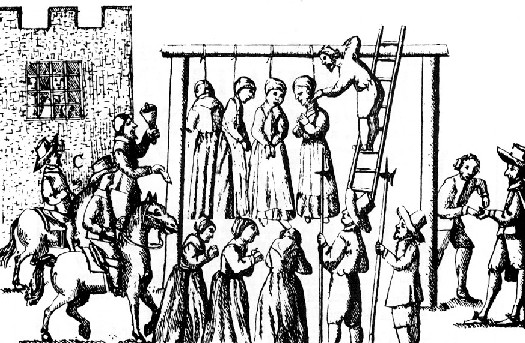 Above is an illustration entitled, "Public hanging of witches." It is from Sir George Macenzie's Law and Customs in Scotland in Matters Criminal, Edinburgh, 1678.
The British Gazette is firmly of the opinion that the death penalty should remain a thing of the past. Clearly however many think otherwise. Apart from hanging drawing and quartering, beheading and burning at the stake, the traditional form of execution (for civilians) in this country has been hanging. For a long time the method of hanging was by asphyxiation. Later the less cruel method of severing the upper spinal column by the use of the technique known as the long drop was used.
In the Islamic Republic of Iran they still use the old method of asphyxiation and carry these executions out in public. In the days when such took place in Britain it was treated as a public spectacle and many turned out to view the hanging.
On 15th July 2007, Iranian authorities hanged two men and one woman in public in the north-western province of East Azerbaijan. The three were hanged in public in the provincial capital Tabriz. The woman was accused of murder and conspiring to kill. It was removed from the web by YouTube.
Is this what you would want for such as the Soham murderer Ian Huntley?