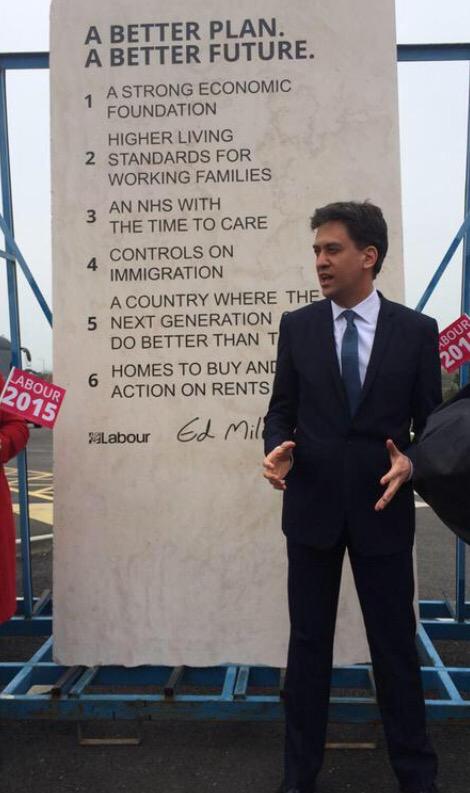 One of the notable occurrences during the 2015 General Election campaign was the appearance of the "Ed Stone." It clearly seemed a good idea at the time by some in the Labour Party, but it immediately became a liability and received its name (the Ed Stone) almost as soon as Edward the Unfortunate had stopped speaking.
Since then, the "Ed Stone" has received further descriptions; For example Boris Johnson has quipped, "the heaviest suicide note in history."
Unsurprisingly, in the immediate aftermath of the election the Labour Party quickly hid the monolith away. One of the most predictable things of course was that the tabloid press would go on the hunt for the object. Well it appears that the Daily Mail has found it. Herewith the link below:
http://www.dailymail.co.uk/news/article-3083863/It-s-Ed-stone-No-10-tracked-bleak-London-warehouse-boss-stonemasons-carved-reveals-s-true-blue-Tory.html
It seems that the Ed Stone cost Labour £30,000. This in large part due to a non-disclosure agreement attached.
Clearly there will be those in the Labour Party who will be considering what to do with it as it is presumably still the property of the Labour Party.
Ever helpful, the British Gazette puts forward this suggestion:
During the election, Nepal suffered the first of two devastating earthquakes. The first occurring on 25th April, 2015 with the second occurring on 12th May 2015.
We therefore suggest that the Labour Party should sell the "Ed Stone" by auction to raise money for the Nepal Earthquake on Ebay on a "buyer collects" basis. Ebay assist such auctions as it will waive its normal commissions for Ebayers selling their property for charity.
At 8:00PM on Wednesday 13th May, 2015, Channel Four screened the first of a two part documentary about the extravagant and sometimes bizarre spending habits of the super rich resident in Britain (mainly in London). Herewith below:
http://www.channel4.com/programmes/the-worlds-most-expensive-food
It therefore seems we have in this country more billionaires than one can shake a stick at. Clearly if some of these people are happy to fork out in excess of £300 for a SINGLE CUP OF COFEE, then maybe they will be prepared to fork out at least £30,000 which we advise Labour to set the "Starting Bid" for the auction.
If the Labour Party will take up this organ's suggestion we may well see a huge sum going to some of the most needy people at this present time.