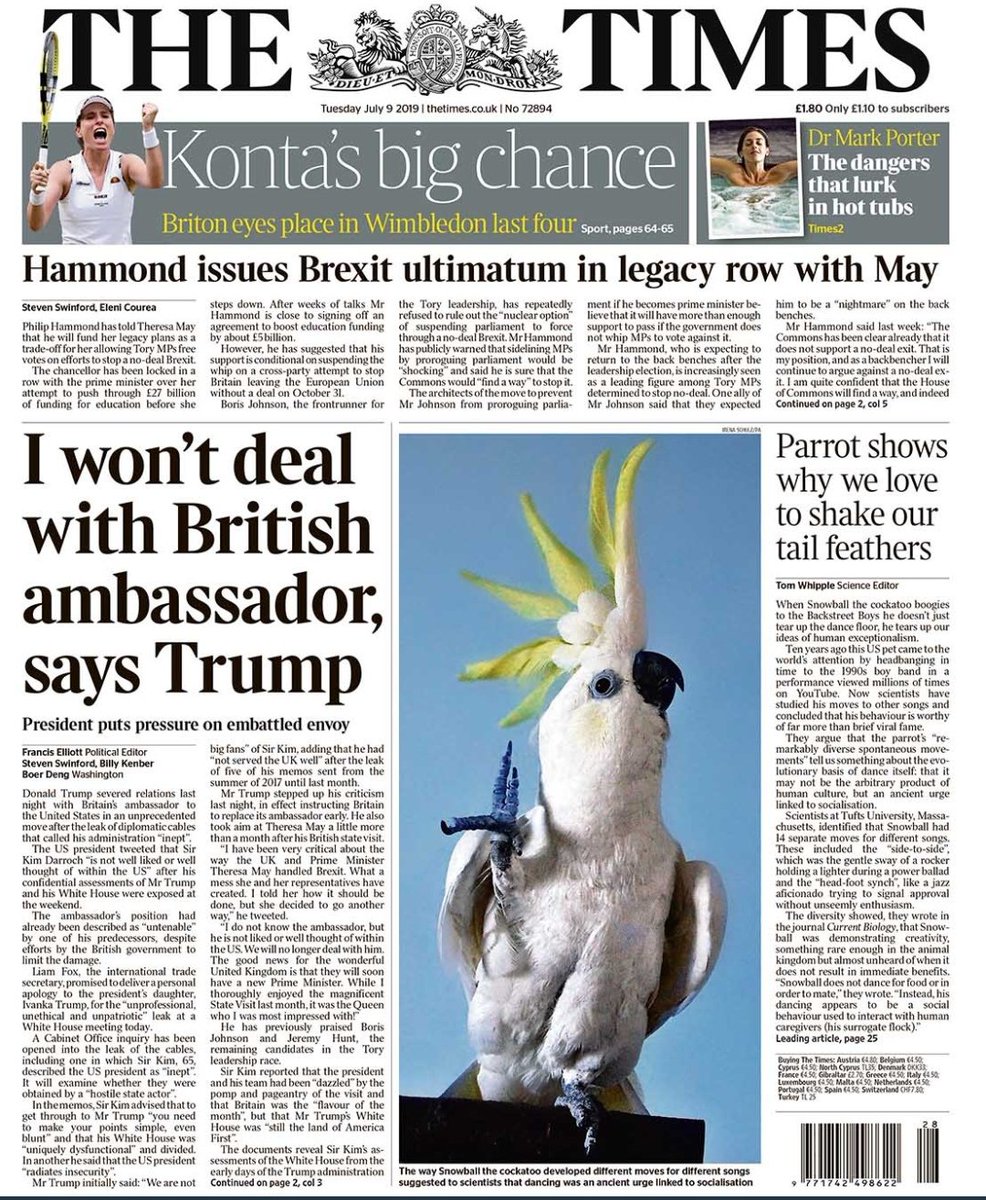 I like to keep images under 128K in size to help keep the bandwidth down. However, today's (click on it for a full size rendition) image is 328K – reducing it would have made it unreadable.
The idiom used in today's tile means of course to show someone that they are not as clever or important as they think.
The front page of yesterday's "Times" newspaper was a delightful riposte to "The Donald's" "Twitter-rant" about His Excellency Sir Kim Darroch, KCMG, UK Ambassador to the United States.
Kim Darroch has been a long serving professional diplomat was appointed a Companion of Order of St. Michael & St. George (CMG) in the 1997 New Year Honours, and as a Knight Commander (KCMG) in the 2008 Birthday Honours.
Sir Kim has announced his resignation today.
GOTO: https://www.bbc.co.uk/news/uk-48937120
The question is this: Will the outgoing PM Theresa May and Foreign Secretary (and leadership candidate) Jeremy Hunt appoint Sir Kim's replacement more or less immediately or will this decision be left until the new PM has been appointed?
In a fortnight's time on 24th July Mrs May will resign as PM and HM will appoint Mr Hunt or Mr Johnson as her new PM.
IF as expected it is Prime Minister Johnson, one wonders if there will be moves to make Sir Nigel Farage the new ambassador? The security services (MI6 and the FBI) would of course have forty fits were he to be appointed! So it is rather unlikely – to say the least!
One thing I think we can be more confident about is that in her resignation honours list, Mrs May will see to it that Sir Nigel Kim Darroch will be appointed a Knight Grand Cross of Order of St. Michael & St. George (GCMG) in those Honours.